If you know nothing else about me, you'll know that my world pretty much revolves around one person. Anyone who knows me knows how proud I am. & anyone who knows her, understands it is warranted.
Today my not so little Princess is celebrating her 7th birthday.
Family Beach Trip, August 2009
I can't even attempt to explain where 7 years went. Weren't we just celebrating
your 6th birthday
??
This time 7 years ago, I was sitting in a hospital. At this point I was up for almost 22 hours. I would never have known that I would not be going to sleep that day and be awake for a grand total of 35 hours. But to know I was the second family member to meet her beautiful face, it was all worth it.
She makes me proud.
Every single day.
She's excelling in every subject and loves Math most.
Vito couldn't be happier.
Her laugh is infectious and her smile radiates.
She loves to make silly pictures, I've taught her that art.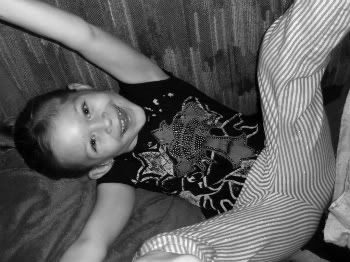 Her goals and ambitions in life right now are to be like her mommy or be a babysitter.
Her favorite color is blue, like her daddy's, and like her eyes.
She's passed 1st grade and never wants summer to end.
She hates getting up early and would like in flip flops if she could.
Every time we are in the car, she asks for the fun singing song, in which we blare "Don't Stop Believin'" the Glee version and sing at the top of our lungs. On repeat.
Yes, she is obviously related to me.
My Princess is growing up. Even though I'm sad (read: I cried in the Hallmark store trying to find a card) that she is growing up too fast for my liking, I'm even more proud and curious to see what the future holds for her and where her path will lead her.
Happy Birthday Pookie Princess.
Thank you for teaching me life is worth living and for showing me happiness.
You will now and forever be my cuddle bug.
Loving you always,
Essa