Title: Missy Higgins -"Where I Stood"

Hi. My name is Vanessa and I've sucked at blogging lately. I've been missing, but not missing at all. I've been reading blogs but just haven't gotten around to writing anything. I was sick. again. I'm always sick. Luckily I'm on antibiotics and feeling mostly better.
Let's talk about one of my favorite days of the entire year since it is upon us. Not Thanksgiving, though it is one of my favorite holidays...
Black Friday!!! Wooohoooooo!
LOVE this day. Now let's get this straight. I'm not a fan of crowds or rude people, but I put this aside for one day of year just for the amazing sales. It is a yearly tradition for my sister and I. We have done it for multiple years now. We sit around on Thanksgiving, spreading out all the ads, cutting all the coupons, making a list of all the places we need to go and making a map of the day. After dinner we relax and then get ready and head out. Our Black Friday shopping starts at midnight. We usually shop all night and during the day. Usually by lunch time I've had my fill. Vanessa + lack of sleep + rude people= grouchy, bitchy, ready-to-snap Vanessa.
By the end of the day, our car is packed to the brim with bags and boxes.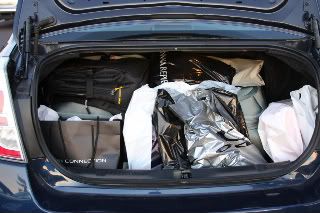 I know it is crazy but it is once a year and totally worth it for the sales.
Anyone else braving the crowds on Friday for the sales? What time are you starting your shopping extravaganza?