Title: Tim Burton - "This Is Halloween"

Halloween has to be my second favorite holiday ever. Hands down I LOVE Halloween.
Back story: I never celebrated Halloween until I hit middle school.  I never went trick-or-treating until I was 12.  My sperm donor (the name for my "father" I refuse to call him that because so many people have good things attached to that word and there is nothing good about this man) was strictly religious with us growing up.  I'm talking I couldn't watch most disney movies because they contained magic and magic was for the devil... my sister and I could not wear black because black was the color of the devil... Halloween focused on witches and satanic worship so we were not allowed to celebrate. Nuts right? Pretty much...
Once I was allowed to celebrate Halloween, I realized how amazing it is. I mean really, what other time a year do you have an excuse to dress up and eat as much candy as you can? Not that excuses are needed.. 8)
One of my favorite movies: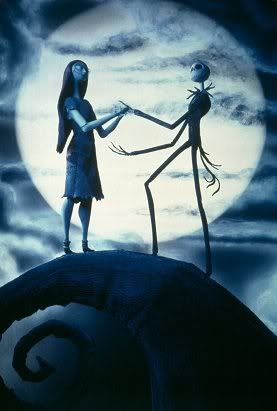 Nightmare before Christmas. LOVE it.
Now here lies my problem and I need your help!  I have a costume party to attend on Saturday. Do I have a costume?! Nope... I'm falling behind.  Neither does Vito.  We suck.  Now it would be nice to just go to the Halloween store and pick something up but that isn't going to be cool enough.
This group of friends goes all out. I mean thinking about costumes waaaaay ahead of time and getting good ones! One of them is going to be Flo from Progressive... Another guy is going to be Sweeny Todd. Really, these people are amazing.  Showing up as a ghost or little bo peep just isn't going to cut it. I need something good... amazing... knock your socks off awesome.
Any ideas?! Are you ladies dressing up?