Title: A Fine Frenzy - "Coming Around"
I survived my first day of classes, thanks for all the encouragement with my schedule. It'll be rough but with all this support, I feel like I might make it, with or without my sanity.
I'm not fashionable. It just isn't in me to care enough about what is "in" or "out" this season. I've never been one to care if my clothes are the next in thing. It has never happened and it isn't going to happen. I'm not one to care what I'm wearing, as long as it isn't outrageous (i.e. the people who do not look in the mirror before leaving the house) and I'm comfy. Now don't let that come off as I just wear anything, I know how to match.
In my wardrobe there are necessary items that if given the chance I would live in and wear all the time. There items are listed below:
Jeans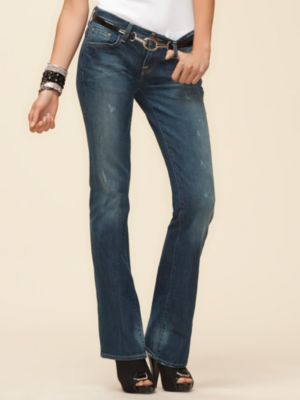 I went through an embarrassing time in my life where I wouldn't touch jeans. Now I live in them. My most exciting part of changing jobs from the bank to being a secretary is wearing jeans everyday (excluding when visitors visit, then I wear dress pants). I love them and I love that I can dress them up or down depending on shoes and shirts.
Camis
I don't think a day passes by where I'm not wearing a cami. In my mind they belong under everything. I have a plethora of white and black camis that I wear on a daily basis. I love layering tops, plus they help keep your junk in the right place. 8)
I also own lace camis which are great for dressing up a sweater. Lace is cute, end of story.
Let me just tell you if I was allowed to wear yoga pants to work, that would be the end of jeans. These things are SO comfy. I love putting them on when I get home from work and lounging in them. Plus they are great work out pants (when I work out...). These are a recent discovery for me (in the last year). If you don't own a pair, get some and thank me later.
My favorite part of winter wardrobe (along with boots and scarves) are hoodies. Hi, I love to lounge around in my hoodie and yoga pants. It is a common weekend outfit when I'm hanging around the house. Mmm they are so comfy and warm. I'd live in these all winter if I was allowed to wear them to work. True story.
My shoe of choice. I wish I could wear them everyday, if only for frost bite and work that bar me from doing just that. When outside of work and not below freezing, my feet sport these. I have a lot of different pairs. I just threw out a bunch that were getting old at the end of fall and I still have over a box full. I need to get stocking up for summer.. A girl must always have a pair to match with every outfit, it has been proven.
Now that you know what I live in, what are your must-have articles of clothing?