Title: Quote by Josh Billings
Growing up as a child, I would find something I liked, whether it be a food or a toy or a movie, and I would constantly watch or want to play or eat this thing. Seriously, I would pop in a movie and watch it multiple times a day for days until I found something else. Obsessive? Maybe. Once I get farther in my psychology classes, maybe I'll
be able to pick out a reason why I did this. Why I still do this. I am not as bad, but I do still find foods I like or a song and listen to it constantly. It happens. This is a list of my current obsessions. Enjoy!
1.) Air heads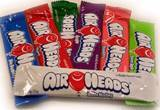 I like to keep candy in my desk drawer to get me through the afternoons. Chocolate always lingers in my mouth and makes me keep eating it so I try to stick to something fruity. After eating Starbursts for a few weeks, I picked up a bag of Air Heads at the
store. Remember these?! They are so yummy. My fav? Mystery (white). Love it.
2.) Song: "Broken" by Lifehouse
I love this song. I can't get enough of it. It's been on repeat on my ipod since I got to work. It's beautiful.
3.) Facebook on Yahoo
I love that I can read status updates right in my Yahoo window when I go to check my mail. Saves me time. All about it.
4.) Book: Vampire Diaries
I read the first 2 books very quickly and was left with the cliffhanger ending, which I HATE. I ran to the bookstore and there was none in stock. I finally got an email today that my copy is finally in and I can't wait to read it! I also can not wait until the show starts up on Thursday. The preview doesn't seem to be exactly like the book, so we will see!
Well, that is all I can think about for today. It'll all change by next week!